Sometimes you have to just go with any plot twists that come your way while you're travelling. For us on our recent Korea/Japan trip, our main battle was with the weather. Yes, we had rainy day itineraries planned but there are only so many days you can spend indoors. And living on the other side of the world with a limited time in the country, we just had to make do.
We had booked a 1-day use Korea Rail Pass before arriving in Seoul in hopes of going to Busan for a day trip from Seoul. Since Seoul was so cold when we were there we thought going to Busan would be a good break from the cold as it's supposed to be warmer there. We went on a day where there was supposed to be a low chance of rain. We caught an early train to Busan and were pleasantly surprised by how comfortable the train was.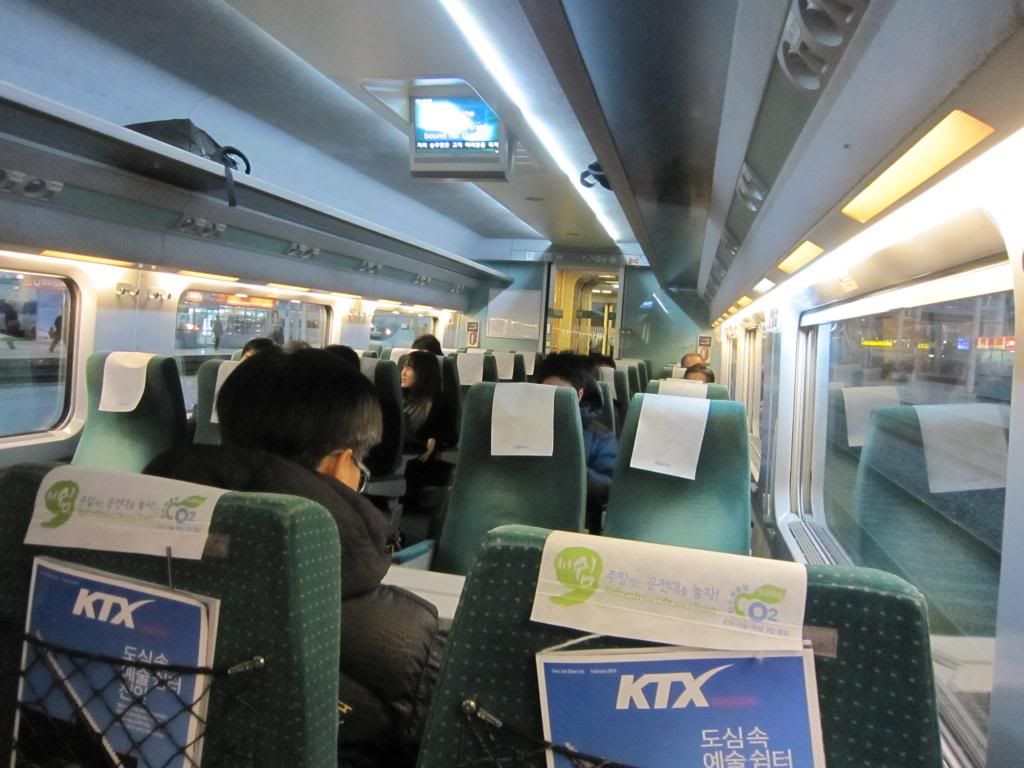 We left a semi-sunny Seoul and watched as the weather got better partway through the 2.5 hour trip to Busan. But alas, when we arrived at our destination, it started to rain. At Busan station, we had a quick Korean meal, and then headed off on the bus to Taejongdae park. I had wanted to take the Danubi train when we got there so that we wouldn't have to hike around the park but as we walked closer to the entrance, I read with my limited Korean that the Danubi train was out of service due to the weather. We went into the information center at the entrance of the park and found out from the lady there that it would take about 1 hour to walk around the park and we decided to just do it because we probably wouldn't get another chance to visit this place again.
Off we went on our little hike. It was raining lightly at first but it wasn't too bad. The path did get quite steep at times so I wouldn't recommend walking it for everyone, but I'm not the fittest person out there and was able to manage. I had really wanted to see the lighthouse at Taejongdae park. Before getting there, we passed a number of points of interest.
Taejongdae Pebble Beach. I loved the sound the waves made against the pebbles.
Statue of Mother and Children. It is there to remind those who intend to commit suicide by jumping of Taejongdae's cliffs of their mother's love for them. This hopefully deters them from carrying through with committing suicide.
After a little bit of a walk, we got to the lighthouse. By the time we got here, the weather had deteriorated a bit and it was raining harder and was very windy. I had wanted to walk down to Sinseon rock but because of the bad weather, decided against it. You know, just in case the wind blew and I slipped and fell off the slippery rock into the crashing waves!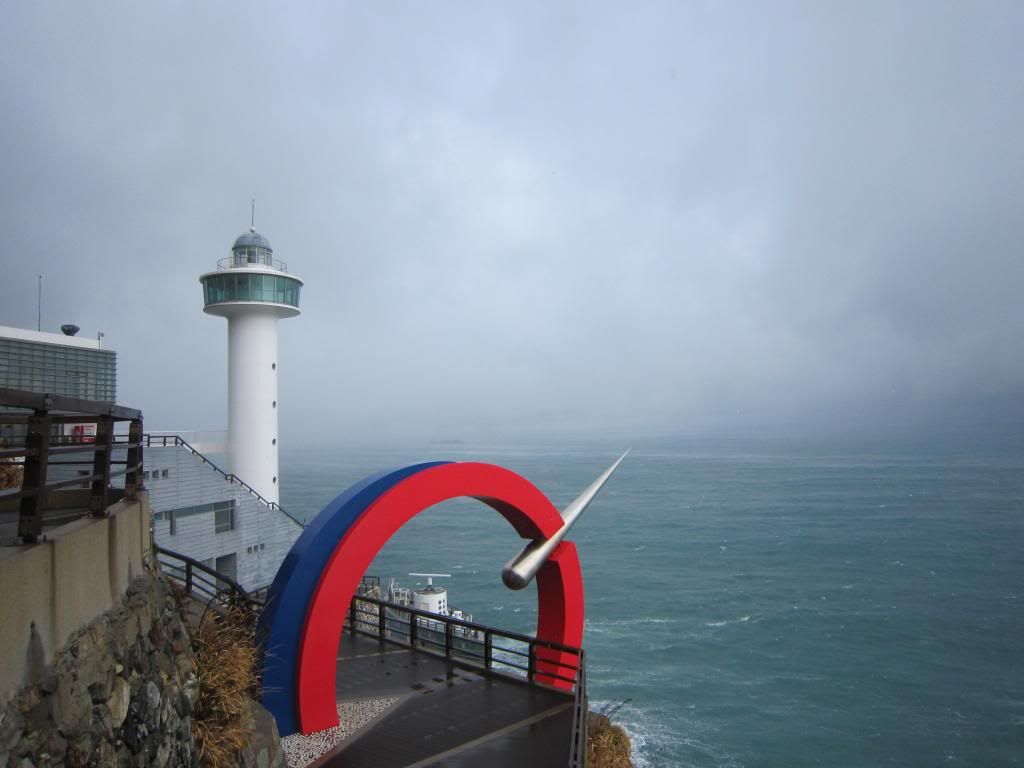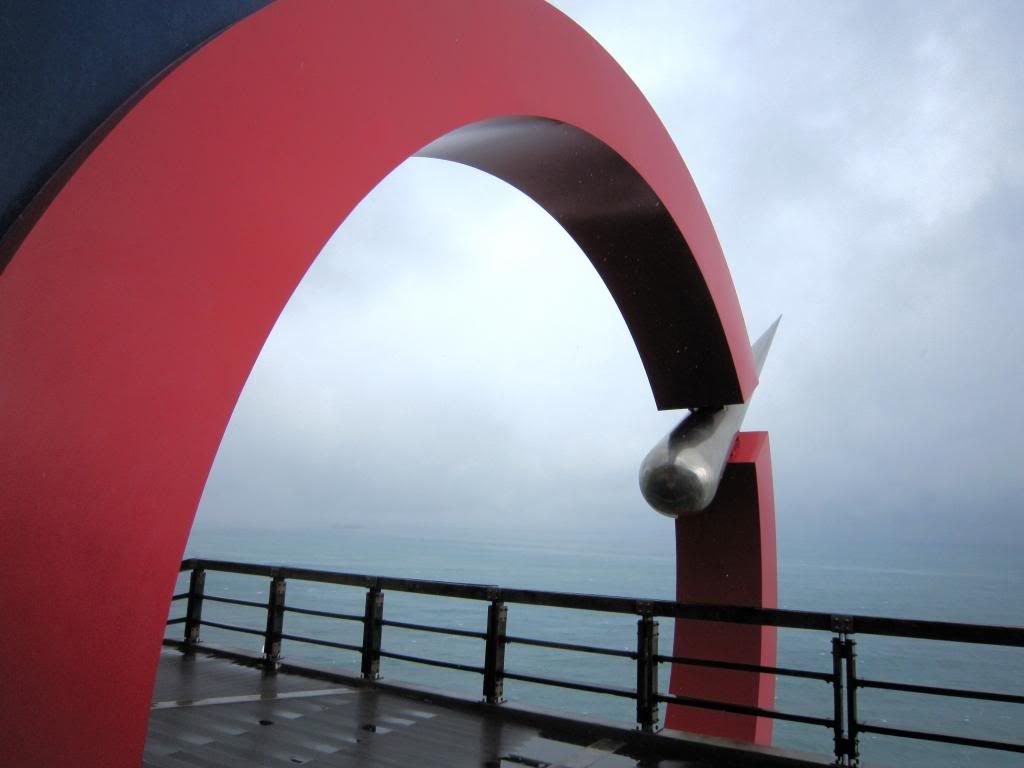 Sinseon Rock/Mangbuseok. It is said that a woman waited here for her husband to return after he was captured by the Japanese. She waited so long that she turned into a rock.
The weather continued to deteriorate as we walked the rest of the path, back to the entrance of Taejongdae park. By the time we got there, the wind was making it hard for us to walk, and the heavy rain blowing into our faces was making it hard for us to see.
It was a good walk though, with really beautiful views. It would have been better if the weather was cooperating but sometimes you just have to make do!
Linking up on the #SundayTraveler!